Testimonials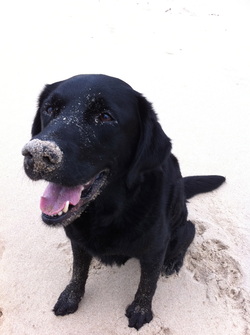 Just
a note to tell you how extremely grateful I am for the love, care and skill you have offered Sylvie and myself, in your training classes. Your sensitivity and expertise with a fearful, reactive rescue dog and nervous owner, from the very start, made us feel welcome and provided an atmosphere of safety and understanding, in which both Sylvie and I could learn and flourish. I cannot thank you enough for the changes that Sylvie has made and the strengthened bond between us. On day 1 she came in shaky and wary and today, on our last day of the course, she was bounding in with a waggy tail. We still have a way to go, which is fine for us both. Thank you so very much for helping a dog that had virtually been written off, to become so much more confident and relaxed. Thank you too for helping me. Your training school is such a resource in this area and I am most grateful for it and we look forward to coming again, soon, to continue our journey.
(Christina, Lytham St. Annes)
A first-class course for puppies- well-organised and thoroughly enjoyable for both puppies and owners- their great strengths are their meticulous planning of activities and their totally empathetic attitude to both canine and human- these are professionals who are genuinely fond of dogs- each session was extremely well thought out and I felt a sense of real progression. To back this up we were sent a plethora of videos and advice sheets which were very useful. I would not hesitate to progress with them and would recommend them most highly. It was both fun and rewarding.
(Jacky, Lytham St. Annes)
Thank you so much for all your help training Turbo and looking after him so well at day care.
(Diane, Warton)
Alan & Victoria - thank you so much for all your help and advice with our little rescue Denver! He's loved the classes and it's clear to see how dedicated you both are not only to Denver but to all the dog's you train and care for.
(David & Karen, Blackpool)
David and I would like to express our massive thanks for such a lovely six week training experience. We were so pleased and proud of our little terrier's at last night's session despite their difficulty in staying still for a whole minute and we have both learned so much with your support and encouragement. We will miss our Monday eve sessions very much and hope to see you both again in the future. Jack and Daisy have loved their time in your classes and are such fantastic little dogs, though I'm quite sure that without your expertise in delivering the Puppy Foundation course followed by the Bronze Award, we would be struggling to steer them through their lively adolescence!
(Alison, Lytham St. Annes)
Ernie and I have enjoyed every second of puppy class and will miss our Tuesday evenings now. Thank you for a great service.
(Shannon, Lytham St. Annes)
Fudge loved day care and the puppy classes. She couldn't wait to go in the mornings. One happy puppy, she was taken care of really well. Thoroughly recommend.
(Wayne, Lytham St. Annes)
Big thanks to Alan & Victoria. We rehomed Alfie 3 months ago and wondered what we had let ourselves in for. But as demonstrated during the Bronze test the training and help over the past 6 weeks has made a huge change to Alfie's behaviour.
(Chris, Lytham St. Annes)
Me, Dan and Poppy have all thoroughly enjoyed the Puppy Foundation course over the past 6 weeks and meeting all of the other little puppies and their parents. Poppy has learnt and developed so much over the past few weeks and we look forward to starting the Bronze Award to continue her training and development further. Alan & Victoria are fantastic and I would highly recommend them and their classes.
(Lisa, Longton)
Hugo has just graduated from puppy class. We've really enjoyed meeting lots of puppy parents, socialising Hugo and learning lots of behaviour techniques. The sessions have been fun, friendly and extremely valuable. Alan & Victoria are brilliant. I'd highly recommend the classes.
(Joanne, Fulwood)
Absolutely amazing trainers and a lovely atmosphere. Great methods - Bella has come on so much since she started her puppy classes and can't wait until we can do more training with Alan & Victoria again!
(Lucinda, Chorley)
First of all a massive thank you to Alan & Victoria. Absolutely first class in their approach and understanding. It is obvious these two are in it for the dogs that they love and admire. So from both Claire and I (and Harriet), we extend our wholehearted thanks.

We took our 11 week old Welsh Terrier pup Harriet as she had had an unusual start to her new home. Our older Border Collie did not take to Harriet and for a week or so we had to keep them seperated as it was far to risky (even supervised) to keep them together. Lots of growling and snapping from the older dog. Then sadly our older dog passed away suddenly. It was not the best welcoming couple of weeks for little Harriet. So we wanted to socialise her with other dogs and people. Alan and Victoria have brought Harriet out of her shell. She is now confident and full of life. She adores other dogs and people. She is even responding to commands (when she wants to!). So do not hesitate to take your puppy to these sessions. I believe they are invaluable and can set up your puppy for life into good, loving behaviours. Many many thanks!
(Ash, Lytham St. Annes)
We have a nervous Havanese puppy, and therefore needed a sensitive approach to get the most from our puppy training. We opted for one 2 one training at our home.

At first our pup was wary, but with Alan's experience and patience she soon became engaged with his methods. The children were also involved in the sessions to make sure our techniques were consistent with one another.

​I definitely recommend Macfarlane Canine Services as a solution for new puppy owners.
(Bev, Longton)
Attended the Puppy Foundation course and the Bronze Award. Both courses were excellent. Alan & Victoria are very experienced and lovely to work with. Can thoroughly recommend!
(Janice, Blackburn)
Exceptional service run by a professional, patient and knowledgeable couple. Xia absolutely loved it! Thanks to Alan & Victoria.... We'll be back I'm sure!
(Tammy, Preston)
Great course, lovely trainers. Lots and lots of support materials too. Highly recommended.​
(Rachel, Longridge)
Thank you Alan and Victoria for helping to socialise our GSD. Isaac really enjoyed the classes. We found your techniques extremely friendly and professional. We would highly recommend your services. Thank you again for your help.
(Sarah, Broughton)
Wow !! Juditha and I learned as much if not more than Barti. A heartfelt recommendation to any new puppy owner......You will learn to appreciate just how clever your bundle of fluff really is and they enjoy showing you. Many thanks.
(Duncan, Chorley)
A big thanks from Duggie and family. Both Alan and Victoria made the last 6 weeks both fun and informative. We now have the basic tools to communicate and enjoy Duggie using very easy and positive communication. He's going to miss all the other puppies!
(Matt, Leyland)
Arnie recently completed his puppy foundation course. They were a pleasure to attend & Arnie loved it. We highly recommend Alan & Victoria - both lovely, professional people. Thank you.
(Emily, Bamber Bridge)
Just finished 6 weeks with Ella puppy training she has done so well I am really pleased with their service would recommend them.
(Ann, Penwortham)
We would like to thank you for all your help with training George. He has come a long way. We'll be sure to recommend your services to others.
(Jennie & James, Fulwood)
I'd highly recommend Alan & Victoria to anyone looking for training classes for their dog. The classes are structured, informative and fun... We started with the puppy foundation and have just achieved the KC Bronze. Can't wait to start the next stage with Macfarlane Canine Services.
(Chris, Catterall)
I couldn't recommend Alan and Victoria enough. I've been to the puppy class with Eidur and just passed the bronze award. He is always so excited to come that he drags me to the door every week!
(Annabel, Leyland)
Just completed the puppy foundation course which was fantastic, learnt loads of useful information and Alan and Victoria are both very helpful. Would recommend to anyone with a new pup!
(Melissa, Cottam)
​
Just finished the puppy training with Oscar. Brilliant course. We learnt a lot and I think Oscar did very well! Both Alan and Victoria were really good with all the puppies. I would recommend this course to all new puppy owners.
(Kath, Lostock Hall)
We recently took our Cockapoo puppy to Alan and Victoria's classes and thoroughly enjoyed it. I would definitely recommend these classes to any new puppy owner.
(Paula, Walton-le-Dale)
We cannot thank you enough Alan for all your caring expert advice since Alfie's vet recommended you. You listened and gave us advice and ideas to follow, we now have a very happy dog who's dealing with his fears and we are very relieved happy dog owners. It's awful to see a dog who's distressed and we felt helpless, so without your help things wouldn't of changed. Your help was and service was 100% and we would recommend your services without hesitation.

We are truly grateful.
(Dean & Denise, Blackpool)
We would highly recommend Macfarlane Canine Services to any dog owner or potential adopter, as Alan's expert help and advice has hugely benefited us and our new rescue dog, Diesel. We contacted Alan before Diesel arrived and he gave us lots of tips for how to help Diesel settle into our home and life.

On follow-up sessions, we worked on recall, loose lead walking and general home management. Our walks with Diesel had been pretty stressful at first because he hadn't been walked on a lead before and pulled like a steam train. As first time dog owners we were struggling a little and needed some training ourselves! Alan & Victoria were always very helpful and reassuring on the phone and at our training sessions, and gave us lots of great videos, websites and resources to refer to as well.

We saw great results following our one-to-one sessions with Alan and walks are now a pleasure. We are thrilled that Diesel can be safely walked off-lead and walks brilliantly on the lead.Thank you for all your help.
(Sarah & Kit, Longton)
I would recommend Alan Macfarlane, dog behaviourist, to any dog owner trying to cope with a dog suffering from separation anxiety.My dog, Alexia, who came to live with me at the age of three years, had been living with me for a year before I became aware of her distress. I returned one day to find that she had ripped up the lounge carpet and my neighbour told me that she regularly barked and howled for the duration of my absence.I contacted my vet, Siuna Reid at the Veterinary Health Centre in Lytham St Annes, who recommended Alan, with the caveat that I must do exactly as he suggested. At my first telephone contact, Alan spent a long time asking me questions about Alexia and her problem, and then gave me some interim management advice to put in place before he visited.From then on, Alan, the vet and myself worked as a team, devising a structured behavioural programme, which satisfied my insurer, Pet Plan.Alan was available whenever I needed his advice, and he gave me the reassurance and confidence that I needed whilst dealing with what was an emotionally distressing problem both for myself and Alexia. He listened to my concerns and observations and gave me appropriate advice. He was also prepared to be flexible in his approach and was honest in telling me that Alexia and I would be on a long journey.Lexi is now far more confident in her own company and as a result of doing the behavioural exercises advised by Alan, we have developed a very good dog/owner relationship, with her delightful character shining through.Thank you Alan.
(Marie, Lytham St. Annes)
We learned some valuable and reliable methods of training over the course, which we hope to successfully implement and build upon. Having enlisted another trainer previously, I can say with some confidence that your understanding of canines and your approach to enhancing their development is superior to, and more intuitive, than the competition. Many Thanks.(Lorraine & Ty, Preston)

I had my puppy Holly attend the puppy classes from which she had learned so much and is a well behaved Dalmatian.

From the first phone call I made to Alan I was impressed as all I wanted to do was book Holly onto the classes, Alan was on the phone for almost 30 minutes giving advice and asking how Holly was. The puppy classes too were very worthwhile as everything taught has helped us bring Holly up very well. Alan and Victoria have both been very helpful throughout and I would recommend them to anyone.
(Mike, Fulwood)
I am so glad I decided to contact Alan after reading his articles in the Lancashire Evening Post. My little dog Barney barked at and often nipped people who came to the door and barked uncontrollably at other dogs, double decker buses and motor bikes when we were out walking. When Alan met Barney he immediately diagnosed that he was fearful, I believe because, before he came to me, he was ill-treated and not properly socialised. Alan's calm attitude and very clear and detailed advice is enabling me to deal with Barney's behaviour and, although I know it will be a long process, I am confident that Barney's improvement will continue. Already he no longer barks at buses but, rather, looks to me when he sees a bus approaching, as Alan had predicted. Friends have said how much calmer Barney is becoming.
It was helpful to me that, at our last meeting, Alan confirmed that I was following his advice correctly so I am confident that, with perseverance, Barney will continue to improve. I am indebted to Alan and will certainly recommend him to anyone with doggy behavioural problems.
(Brenda, Ashton-on-Ribble)
Having recently had training from Alan for our new rescue dog Oscar . Our family has been very pleased with the results! We really enjoyed gaining in confidence and knowledge about how to handle him in tricky situations after his shaky start in life! The insights gained were very valuable and our relationship with Oscar has been enriched!
(Meriel, Ingol)
Fantastic puppy training classes, Alan and Victoria certainly know what they are talking about. So helpful and make the classes fun. Would recommend them to everyone with a new puppy. Thank you, Barney will miss all the friends he made!
(Cheryl, Penwortham)
We cannot speak highly enough of the help and training we got recently with Alan. He has the most calm and relaxed style, yet got immediate results with our 6 month old puppy Amber.We had a few areas that we wanted him to work at, and each one has been a success, due to the fact that he helped train us too. We learnt so much from the sessions we had, with all his advice and instructions on handouts for us to use, it was a fantastic, fun and confidence building experience. The phrase 'going the extra mile' only begins to describe the time, energy, and genuine care and interest he showed.Totally recommended to everyone wanting the best for their dog or puppy.
(Chris & Pete, Clayton Brook)
We have continuously witnessed you providing the best care for dogs of all breeds, with all manners of personalities, demands and needs. You offer so much sound advice and have enabled us to see life through our dog's eyes, communicate effectively with him and be the best owners that we can be.Our dog is absolutely beside himself with pure excitement and adoration each time he sees you both. Your calming, sensitive and respectful approach towards all dogs is exemplary and we will continue to spread the word of the great work undertaken by Macfarlane Canine Services.
(Damian & Sharon, Chorley)
I've been meaning to write to you for some time now to thank you for the amazing results that you've had with Buddy & Rolo.

As you know, I had tried various trainers and methods over the course of the last 6 years with very little success. Walks had become really stressful for me and at times quite traumatic due to their displays of aggression towards every dog that we encountered and I had taken to walking them late at night to avoid possible hazards. My enjoyment of my dogs had virtually vanished and I was even worried that I might have to give them up if I couldn't get help to control them.

During our behaviour consultations, your in depth knowledge and understanding of dogs was obvious and your explanation of their psychology and way of learning made perfect sense. I suddenly started to believe that you were different from the rest! Given that Rolo is 9 and Buddy 7, I still wasn't sure how much progress you could actually make with them and I was prepared for improvement to be a very slow process. However, I am amazed and delighted in how far we have come in such a short time. The changes that you recommended all helped and within days both dogs were obviously calmer and happier.

The single biggest problem as you know was walking them, with Rolo constantly pulling on a lead and both dogs lunging at every single dog we encountered. I had a romantic notion of being able to walk my dogs along a beach or through a park but I didn't actually think I'd ever achieve that! I am thrilled by the change in their behaviour and I am now confident to walk them in the park and on the streets again - walks are something to be enjoyed now rather than dreaded. Your gentle and positive methods have brought tremendous results quicker than I could have expected. I am so proud of them now and my enjoyment of my dogs has been returned to me.

Outstanding results - Buddy and Rolo adore you both and I simply cannot praise you enough. Everyone who owns or cares about a dog should have access to your services.
(Jen, Penwortham)
It was my good fortune to be recommended to Alan & Victoria when my wife and I 'adopted' a rescue dog through the Irish Retriever Rescue organisation; Buster's previous owners had given him up as 'too difficult to train'. Buster was nearly two years old when he came to us; he is a handsome dog, but we quickly learned that he had problems - three problems in particular: pulling on the lead - (nothing new in that, you will say, but still an annoying behaviour trait); no sense of 'recall'; and an expert 'escape artist'. In the early days, we had to fit three new fence panels in the back garden, as he could easily clear the four foot original panels. As a result, we couldn't let Buster off the lead - as a young healthy dog, like a teenager, you can imaging the energy he had bottled up in him!Our first contact with Alan was to complete a lengthy questionnaire on Buster, with a follow up consultation. Alan responded to this with a written report and further practical sessions, focussing specifically on how to address the problems. Now four months later, the problems have largely or completely disappeared. We still have work to do, but it is such a delight to see Buster racing back to us when he hears his 'recall' whistle!Prospective dog owners can be assured, not only of their expertise but also of their genuine and caring attitude for the dogs in their care. Alan & Victoria believe that reward and praise is the only way!As you can see, we can recommend Macfarlane Canine Services without reservation.
(Norman & Pat, Leyland)
I really liked Alan's training style as I know it is done with complete and genuine care, and is always with the dog's best interest at heart. Alan focuses very much on what the owner can do differently, which will lead to changes in the dog. His methods and suggestions are thorough, robust and need to be applied consistently. If so, real changes will be seen ... along with a happy dog and owner!
(Katherine, Chorley)
Alan & Victoria are a wonderful animal loving, caring couple. I have, and will continue, to recommend them to others.
(Maxine, Penwortham)
I would just like to offer a massive thank you for taking care of our dogs.Alan, your knowledge and training ability is undeniably the best I have ever come across and Victoria, your passion, patience and understanding of our dogs is second to none.To be honest I have never met a more competent couple in my life when it comes to the welfare of our dogs and cannot recommend you highly enough.Thank you so much for always being there to help.
(Diane, Singleton)
Alan & Victoria are a wonderful couple who are expertly qualified to give loving care to dogs left in their safe keeping. I have known them for five years and have always entrusted them to look after my two labrador dogs.
(Diane, Penwortham)