Behaviour Consultations
"Outstanding results - I simply cannot praise you enough"
(Jen, Penwortham)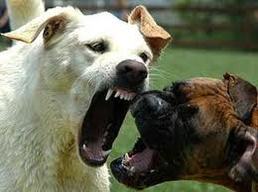 If your dog is currently displaying undesirable behaviour, this service looks at the underlying cause and offers you kind and effective ways to resolve it. Through our experience in understanding, developing and changing behaviour in dogs and people, we aim to make everyday life with your dog more manageable and enjoyable.

We believe that it is a privilege to own a dog, and we also believe that it takes courage to address a problem with your dog's behaviour. Anyone who contacts us for this service has our instant respect and we will do all we can to help you.

Some examples of problem behaviours include:
Aggression towards humans &/or other animals
Excessive Barking
Fears, Anxieties & Nervousness
Destructive Behaviours
Separation Related Problems
Resource Guarding
Repetitive Behaviours
Prior to commencement, clients using this service will be asked to complete a questionnaire in order to gather details of the current problem and any relevant background information. Your vet will also be requested to complete a referral form.
Upon receipt of the completed questionnaire and referral form, we will arrange a 3 hour consultation to take place at our Centre, where a thorough and accurate assessment of the problem will be made and potential solutions provided. During the consultation you will be taught practical ways to manage the situation and be given a clear plan of how to rectify the problem in the long-term.
A detailed written report will be provided following the consultation, plus 3 months email and telephone support.
£450
Feel free to call us to discuss your current concerns, without obligation, we are confident that we can help you.
​
N.B. This service may be covered by your dog's pet insurance - please check your policy.
We cannot thank you enough for all your caring expert advice since Alfie's vet recommended you. You listened and gave us advice and ideas to follow, we now have a very happy dog who's dealing with his fears and we are very relieved happy dog owners. It's awful to see a dog who's distressed and we felt helpless, so without your help things wouldn't of changed. Your help was and service was 100% and we would recommend your services without hesitation.

We are truly grateful.
(Dean & Denise, Blackpool)